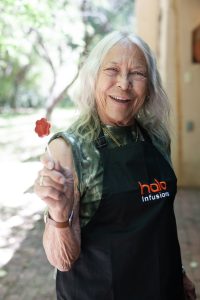 MEET THE HALO INFUSIONS TEAM!
Linda, Director of Finance
• How long have you been with Halo Infusions? I've been with Halo since 2012. 10 years!
• What is your title and main duties of your job? Director of Finance – oversight of the company finances.
• What is the best advice you've ever received? "Be here now."
• What do you love most about what you do? Working with young people. Working with a product I believe in. Putting the patient first by bringing that product to a wide range of people throughout the state.
• Favorite Halo product and why? Edibles: Our Cannabliss Gummies which are dosed consistently from the highest quality ingredients.
Topicals: Our Chronic Health Pain Relief Ointment – tried and true. It works well for a wide variety of skin and pain issues!
And if you are thirsty, a hat tip to our juices – any flavor!!
• Best part about working at Halo? Gotta love working in a new industry, being able to do a variety of things to help grow a new business. Working for a forward-thinking, supportive company that realizes that the employees are the most important piece of the puzzle.
• Tell us a surprising or a fun fact about you. In the mid 1980's I won the State Bodybuilding Title of Ms. Idaho Lightweight.Camelback mountain in 2013.
Linda, it doesn't surprise us that you won the bodybuilding title. To all of us, you are a winner in every way! We thank you for keeping us going and appreciate all that you do! 🏆