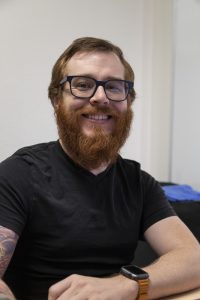 MEET THE HALO INFUSIONS TEAM!
Jay, Product Manager
How long have you been with Halo Infusions?

Almost 7 years now.

What is your title and main duties of your job?

I work as the Product Manager. One of my main duties is to help facilitate the development and creation of the new products to introduce to the market.

How do you achieve success in your role?

Success is largely dependent on having good communication with my peers and properly prioritizing the world of several projects that occur simultaneously.

What is the best advice you've ever received?

"When you do things right; people won't be sure you've done anything at all." – Futurama.

What do you love most about what you do?

I love supporting good people and a good product.

Favorite Halo product and why?

The new Sour Gummies or Flower Pops are probably my favorite because of their taste and plus the serving sizes are perfect for me. The 1:1 Glycerin Tincture also holds a special place in my heart. 

Best part about working at Halo?

I love the level of empathy and passion from leadership. I love the dogs that are present in the office each day. And I love looking back and reflecting on how far we've come since 2015.

Tell us a surprising or a fun fact about you.

I've bowled a 298 in a bowling tournament.
Jay, your silly personality keeps us smiling. We also appreciate your leadership in introducing new Halo products!
@lifeplayedbyjay