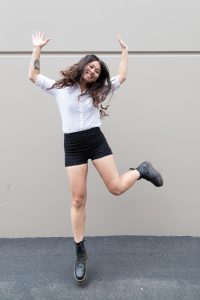 MEET THE HALO INFUSIONS TEAM!
Cherry, Customer Care Manager
• How long have you been with Halo Infusions? Since June of 2018.
• What is your title and main duties of your job? Customer Care Manager. I assist with inquiries related to our products and I also help in wholesale and marketing with a variety of duties.
• What is the best advice you've ever received? "Don't forget to take care of yourself."
• What do you love most about what you do? The feedback we receive from multiple customers and patients. I started as a patient and worked in the dispensary. So, I got to see how well our products, specifically our tinctures, improved the lives of many of our patients who suffer from a variety of medical conditions.
• Favorite Halo product and why? Our 1:1 Pain Relief Tincture would be my favorite product. It really helps relieve some nerve pain when I have flare ups of inflammation. I suffer from a rare brain and spinal condition that causes nerve pain throughout my body.
• Best part about working at Halo? Working and growing with amazing people who put their love and energy into making such a delicious medication at top quality and know that it helps so many people! We even have awards to show for it!
• Tell us a surprising or a fun fact about you. I love numbers.
Thanks Cherry for providing such great customer service!