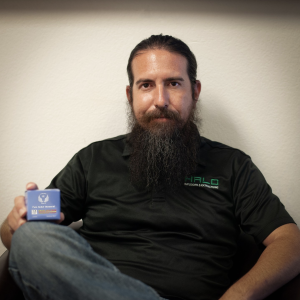 MEET THE HALO INFUSIONS TEAM!
Chad, Research & Development
• How long have you been with Halo Infusions? 10 years
• What is your title and main duties of your job? Research & Development: Creating shelf stable infused products, developing processes and procedures to accompany new products, validating new equipment, sourcing materials for new products.
• What is the best advice you've ever received? "Nobody knows everything, if they 'pretend' to understand everything it is because of a fault they are trying not to acknowledge. Asking a question about something you don't understand is necessary to further your knowledge of your personal unknowns." -BB
• What do you love most about what you do? Creating an exciting product.
• Favorite Halo product and why? Pain Re-leaf Ointment : I use this product every day for pain management. It works wonders for my wife and myself.
• Best part about working at Halo? Being creative.
• Tell us a surprising or a fun fact about you. I like being alone… Maybe too much.
Chad, you're not only the master at researching and creating our products, but also so super cool! 😎