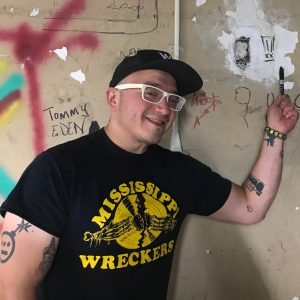 MEET THE HALO INFUSIONS TEAM!
Aaron, Infusions Chef
• How long have you been with Halo Infusions? I've been at Halo for 8 years.
• What is your title and main duties of your job? My job title is Infusions Chef. My duties are to produce, along with our kitchen team, high quality and strictly tested for potency edibles and topicals.
• What is the best advice you've ever received? The best advice I've received is to: "crush your enemies and see them driven before you," Conan the barbarian.
• What do you love most about what you do? What I love most about what I do is getting to work with extremely talented peers in a highly competitive and new field.
• Favorite Halo product and why? My favorite Halo product is our Cannabliss Gummies. I've seen the process develop from humble beginnings to the machine it is now.
• Best part about working at Halo? The best part of working at Halo is the toxic free environment and the pride everyone has about putting out a higher than exceptional product.
• Tell us a surprising or a fun fact about you. A surprising fact about myself is I like to sing but have never done karaoke.
Aaron, your ability to infuse all of our products is pure perfection 👌