✨ Hey there, it's Aunt Ellie! Ready for a sweet end to your Tuesday? Our award winning Classic Brownie is a Full Spectrum delight that will have you smiling from ear to ear! 🌿💚
🍪
🍪
Imagine sinking your teeth into a rich, chocolatey brownie that's made with love and never 🚫compromises on quality. It's a treat that warms your heart and tickles your taste buds.
🤎
🤎
You might wonder, what makes Aunt Ellie's brownie so special? Well, here's the truth: we believe in the power of the whole plant. Our brownies are crafted using RSO-style infusion, capturing the true essence of cannabis. No isolates or distillates here! ❌
🤎
🤎
The result? A brownie that goes beyond ordinary sweetness. Each bite is a journey of flavors, a symphony of decadence and wellness. Indulge in the combination of rich chocolate and the magic of full spectrum goodness.
🍪
So, why settle for an ordinary Tuesday when you can have a chocolatey escape? Treat yourself to Aunt Ellie's Classic Brownie and let us bake you happy!
Trust me, one bite is all it takes to put a smile on your face! ✨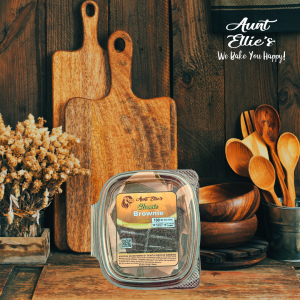 Halo Infusions operates under lic.00000120ESGW29293058