Elevate your culinary creations with a touch of bliss. Cannabliss 420 Sauces are crafted with the utmost care, using only the finest ingredients. Our commitment to quality means we offer Full Spectrum,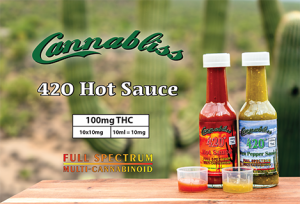 whole plant medicine, never isolate or distillate. Whether you're a fan of the bold kick of Green Pepper Sauce or the fiery zest of Hot Sauce, each bottle comes conveniently dosed at 100mg (10x10mg), thanks to the attached cup. Inspired by our Southwestern roots, these hot sauces encapsulate the very essence of the region.
Cannabliss Green Pepper Sauce offers a delicious fusion of Southwestern flavors and cannabis, all made with a deep appreciation for fresh, quality ingredients. This award-winning recipe blends green tomatillos, jalapeño peppers, cayenne pepper, garlic, chile, and avocado into a creamy topping that pairs exquisitely with dishes like pollo, carne, and any other that craves an extra kick.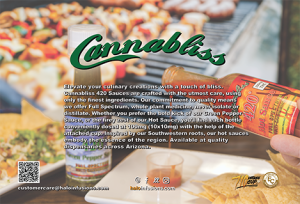 On the other hand, Cannabliss 420 Hot Sauce represents the perfect fusion of flavor and Full Spectrum goodness. Infused with High Terpene Full Spectrum oil, every drop delivers the true entourage effect that amplifies your dining pleasure. Our recipe combines flavorful tomatoes, peppers, herbs, and spices, creating a tantalizing symphony for your taste buds. Enhance your dining experiences with the influence of 420 Hot Sauce and allow the bold flavors to whisk you away on an unforgettable journey.
Cannabliss 420 Sauces offer a unique and high-quality approach to add to your culinary delights. By infusing our sauces with Full Spectrum cannabis, we ensure that you will experience the full range of benefits offered by the plant. With the added convenience of an attached dosing cup, you have complete control over the intensity of your dishes. Elevate your meals and savor a journey of flavors that will transport you to a state of bliss. Discover the rich tastes of the Southwest with Cannabliss 420 Sauces, available at quality dispensaries across Arizona.