Introducing 3 *NEW* 100mg Chronic Health Tinctures manufactured by Halo Infusions. These tinctures are designed to provide quick-acting pain relief, thanks to their infusion with full spectrum Rick Simpson Oil (RSO-style) cannabis oil. With a focus on whole plant-based medicine, these tinctures offer a range of THC:CBD ratios, allowing you to choose the one that suits your needs best.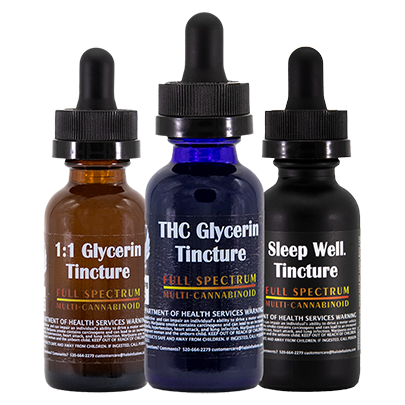 What sets 100mg Chronic Health Tinctures apart is their use of easy-to-digest, healthy vegetable glycerin as the base. This high bio-availability medium ensures that the tinctures are easily absorbed by your body. Additionally, the short chain triglycerides in vegetable glycerin make it easier to digest, providing a faster onset of effects.
One of the key benefits of using vegetable glycerin is that it preserves the herbal characteristics of the tinctures. This means that the terpenes, cannabinoids, and other phytonutrients present in the original plant material resist degradation, ensuring that you receive the full benefits of the whole plant. Moreover, vegetable glycerin acts as a natural sweetener, making the tinctures more enjoyable to consume.
At Halo Infusions, our product philosophy revolves around whole plant medicine. We believe in harnessing the full spectrum of cannabinoids, terpenes, and other phytonutrients present in the original plant material. This approach, known as the "entourage effect," provides a greater therapeutic effect than any single compound. We never use isolate or distillate in our tinctures, ensuring that you receive the maximum benefits of the plant.
Our tinctures are dosed with RSO-style concentrate, ensuring consistency and quality in every bottle. To administer the tinctures, simply place 10 drops under your tongue and wait for 30 seconds before swallowing. The sublingual administration allows for faster absorption and bypasses the gastrointestinal tract, providing you with faster and more effective results.
When it comes to dosing, each drop of our tinctures is equivalent to approximately 2mg of THC. We recommend starting with 10 drops and waiting for 20 minutes to assess if the dosage was adequate for your needs. Remember, everyone's tolerance and response may vary, so it's essential to find the dosage that works best for you.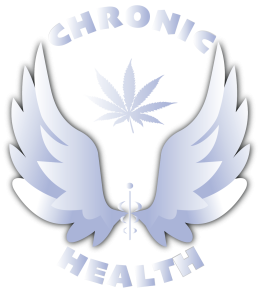 Quality and consistency are of utmost importance to us. That's why we test our concentrate, intermediary oil, and final product for each and every batch. We meet or exceed the most rigorous residual solvent and pesticide standards, ensuring that you receive a safe and reliable product. Our commitment to quality is reflected in our award-winning products, year after year.
To ensure the longevity of your tinctures, we recommend storing them in a cool, dark place for up to 6 months. If you prefer, you can refrigerate them for an extended shelf life of up to 1 year. Please note that extreme heat should be avoided to maintain the integrity of the product.
Experience the benefits of 100mg Chronic Health THC REC Tinctures and discover the power of full spectrum cannabis oil. Choose the ratio that suits your needs and enjoy the quick acting benefits that these tinctures provide. Trust Halo Infusions for quality, consistency, and award-winning products.
Ask your local dispensary for our 100mg Chronic Health THC REC Tinctures today!
See other Award Winning Chronic Health Products HERE
Find our products close to you by using our Product Map HERE